July has been by far my busiest month of the year! With two trips to London, meeting online friends, the 3 month long British heatwave of 2018 continuing on throughout July, now into August and the littles now broken up for the 6 weeks holidays. It's been pretty non stop! Without further adu here's my July's favourites round-up…
Fashion
I went shopping on the website everything5pounds.co.uk for this first time early July as I had no semi-formal wear that we were required to wear to the Trailblazers At 10 event which took place in Parliament (you can read more about that a bit further down). Still working on body confidence issues since my youngest was born 2 years ago, I still feel self-concious showing alot of skin, particular my upper arms. So I chose this lightly patterned off-white dress with short sleeves that was a skater dress fit. The beauty of skater dresses is that the waist is a few inches below the boob area, instead of just above the hips, which is always a self-concious area post-partum. So it's really good at flowing past the tummy area, hiding any insecurities and looks very elegant! See the thumbnail image of this post for a glimpse of the dress, unfortunately the event kept me so busy I forget to get a full body photo, so you'll just have to trust my judgement on this one fellow Mamas! I chose to pair this dress with some sheer tights to keep my legs warm (as I suffer from corpse legs – a term invented by my #MDBloggersCrew girl Carrie Aimes of 'Life On The Slow Lane'!) and some dark grey suede feel flats with a twist in the fabric of the top of the foot for a little more style – also from everything5pounds.co.uk . Overall I highly rate my purchases from this site and feel I could wear this dress to other functions, even dressing it down for a casual social event, which is exactly what you want from a dress. No use buying something you'll only wear once, total waste of money otherwise!
After being a big fan of the Boots Tea Tree and Witch Hazel skincare range for about 2yrs, I decided that the gel like consistancy of the moisturisers and such weren't great for me as a NIV user (Non-invasive ventilation). I needed a brand that still had Tea Tree in it but with a moisturiser that soaked up quickly on your skin. To my delight I found such a thing exists in Superdrug! I took advantage of there Buy 1 get the 2nd 1/2 price offer on their own brand Tea Tree range and I've got to say I'm absolutely loving it! The exfloliation pads are much more saturated, with thicker, more textured, overall higher quality pads that I noticed pretty much straight away by combination dry skin wasn't getting patchy anymore. Also their Tea Tree daily moisturiser is cream based, NOT gel which is exactly what I was looking for. Within 10 minutes of applying, it soaks deep within your skin to give you a clean and smooth complextion without feeling oily. Touch wood I haven't had nearly as much trouble with my ventilator mask at night causing sores since I switched facial moisturisers.
Recommended:
My Journey Adjusting to NIV: 5 Years to Acceptance

As I mentioned in the beginning of this post, July has been absolutely crazy busy. I was in London twice in the space of a fornight, 1st to appear on my first LIVE panel along side some pretty fabulous Mummy bloggers (see my blog; 'Pregnanr On Public Transport | #ExpectingChange Campaign') and the 2nd I proudly appeared in Parliament with over 40 Trailblazers from the charity Muscular Dystrophy UK, whom I've dedicated the past 6 years campaigning for access and inclusion with, to celebrate Trailblazers at 10 Years Celebration! Although gallavanting down south twice in such a short space of time has really tired me out, I am really delighted to have been part of both events and so glad I had the opportunity to participate. Here's to future Mummy blogging opportunties and the next 10 years of campaigning with such an awesome team of young disabled people!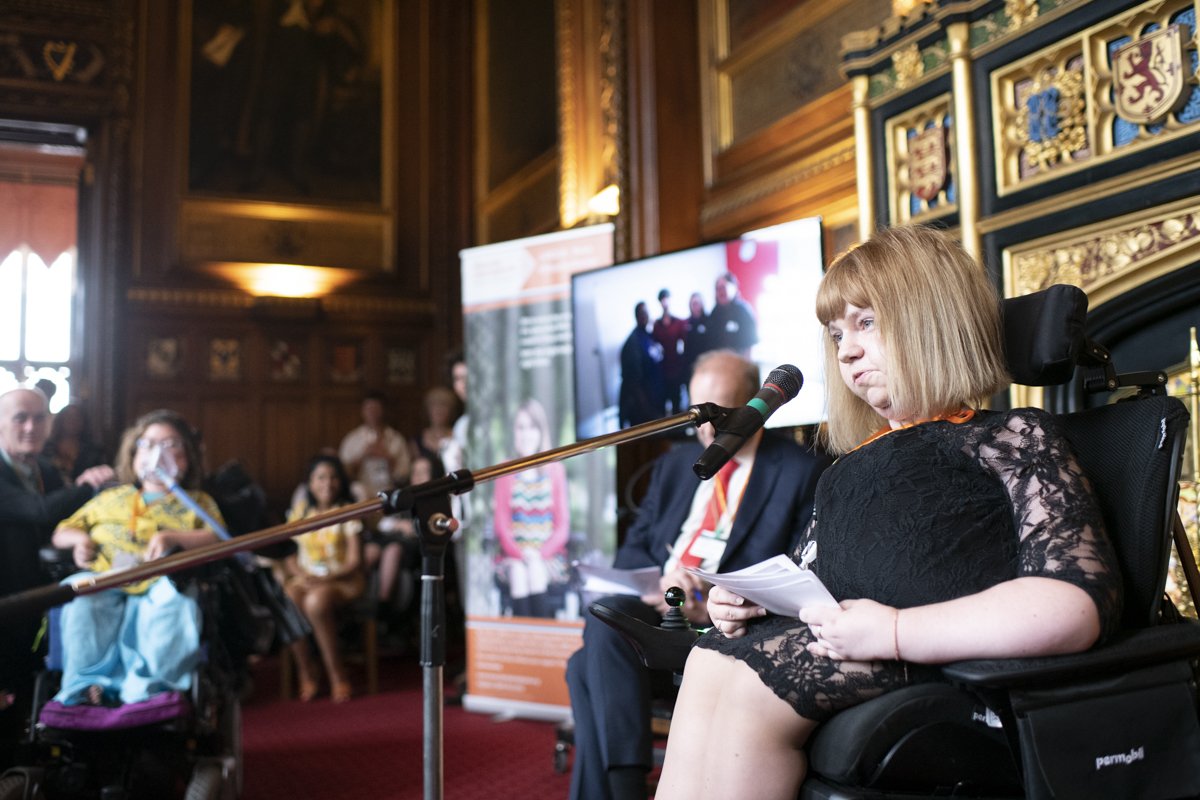 Photo Credit: @MD_Trailblazers twitter account
This is such a hard one! I've spent a good half hour thinking about this before answering. Despite how many amazing opportunties and adventures me and my family have been apart of this month, if I had to choose, I'd narrow it down to THREE moments that trumpted all.
1. Getting a personal Shout Out by Lauren West – Trailblazers Manager during the Trailblazers At 10 celebratory event in Speakers House during her speech. Recognising my efforts with the Changing Places Campaign, particularly as I went LIVE on Facebook (jump to the blog: 'Why I was #FitToBurst *LIVE* On FaceBook') in a public post documenting my family outting where I couldn't find a single Changing Places toilet and had to go home as a result.
2. Reading my eldest daughters End Of Year Report, finding out she's excelling in 3 major areas despite how worried I was about sending her to mainstream school with her visual impairment.
3. Appearing on ITV Granada Reports to share my story on why I'm on the waiting list for what is deemed as 'medically unnecessary surgery' to have a catheter surgically fitted in my abdomen, purely through lack of fully accessible toilets. This was a HUGE moment in my campaign work specifically on Changing Places. See here:
And that's a wrap for another month of favourites. I hope you all have been making some wonderful memories and enjoying our heatwave (as much as realistically possible anyway!) and I'll see you in next months installment. Take care everyone!
---
This blog post is linked-up with;